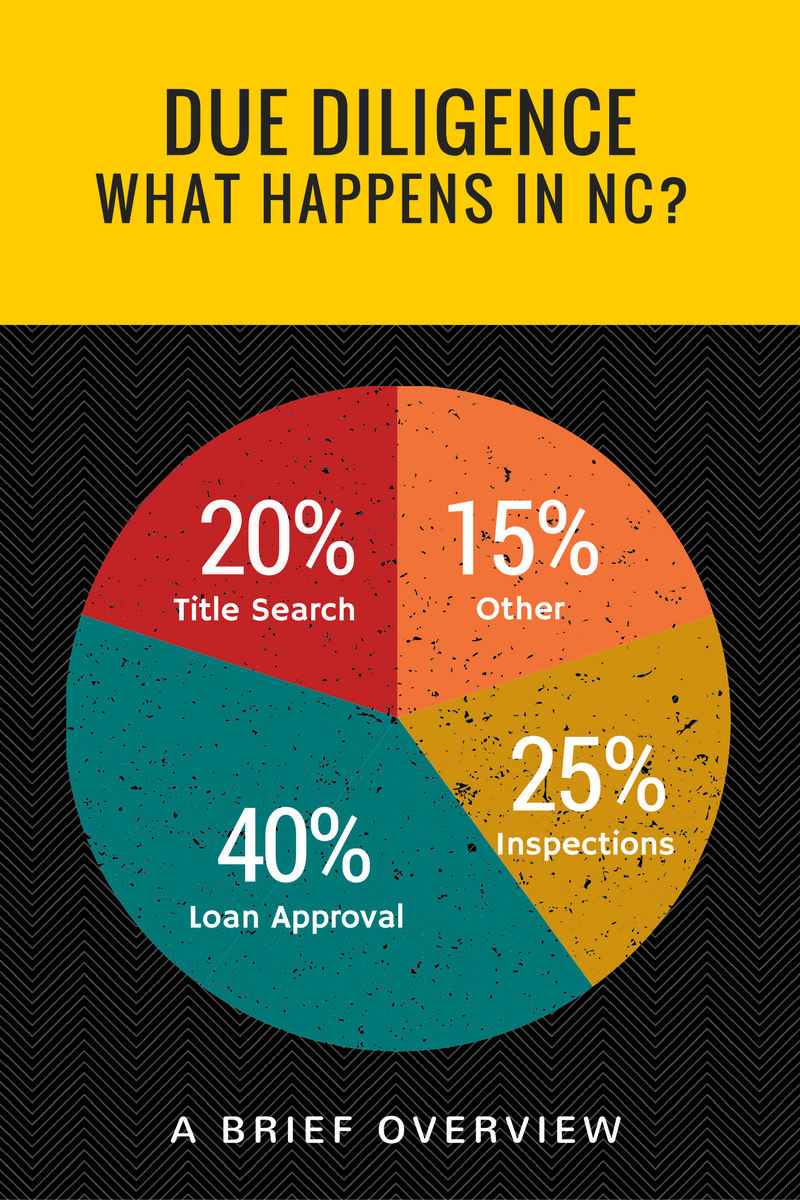 ---
If this is your first NC home purchase or if it has been several years since you've bought or sold here, then you many not be familiar with the NC Due Diligence Process.
---
In short, it is a simple solution to having to deal with multiple contract contingencies. When you make an offer on a home, there are two dates that are extremely important. Your Due Diligence Date and your Closing Date are not to be confused.
---
The due diligence period is the time that you have to complete any and all inspections or research on the property, as well as get your loan approved. During this period, the buyer may back out of the contract for any or no reason whatsoever.
---
But why is the due diligence period so much longer than many other states?
That's because many things must take place during this period. Let's look at some of the items addressed and their respective time frames:
Loan Approval is by far the driving factor in the due diligence length. The buyer is expected to get a fully underwritten loan approval during this time, and lenders typically take 2-4 weeks to get this done (depending on the type of loan).
Appraisals can only be ordered by the lender once a fully executed contract has been submitted. While some appraisers have turn around times of 7-10 days, others (especially for VA or FHA loans) may take as long as 14-21 days. Without the appraisal, the lender cannot approve the loan.
Inspections can include many things. Home inspection, Radon, Termite, Structural, Septic, Well, Roof, Survey and so on. Many times a buyer get's a home inspection performed and then has to get other inspectors or contractors involved to evaluate potential deficiencies. This period can range from a few days to several weeks.
Title Search is performed by an attorney. The attorney may do it themselves or with the help of a title search company. They must research the property to make sure there are no outstanding liens, debtor suits or deficiencies in the title history that may affect the new owner. The typical title search takes about 10-14 days to complete.
Repair Negotiations are also handled during this period. If there are any problems found during the inspections, the buyer has the right to ask the seller to correct them. All repair negotiations are completed prior to the end of the due diligence period.
---
What if the buyer decides to cancel the contract during the due diligence period?
Then they may certainly do so. If due diligence funds (typically a few hundred dollars) have been negotiated then the buyer will forfeit those funds, along with any fees associated with the inspections etc. Under normal circumstances however, the seller is only entitled to receive the due diligence funds and any earnest money involved is returned to the buyer. The important thing to remember is that your due diligence date is a "time is of the essence" date, meaning 5pm of that day and not a minute longer. A buyer may still back out of the contract prior to closing, once you are past your due diligence date, you forfeit your earnest money as well.
---
What if the seller decides that they want to cancel the contract?
This is where things can get a little tricky. All sellers should truly want to sell and be fully aware of the risks involved when putting their home on the market.
If after going under contract, a seller decides not to sell, then they must make the buyer whole. This means returning any due diligence funds & earnest money, as well as reimbursing the buyer for all expenses they've incurred in connection with the property transaction. This can be fees for inspections, surveys, attorney & title, appraisals, etc. This can add up very quickly.
---
Doesn't a seller have to make repairs?
This is often a misconception that agents hear from buyers.
To be clear, a seller is NOT required to make repairs or improvements to a property.
While many times it may be in their best interest to make some repairs, they are not forced to. If using the the standard form 2-T Offer To Purchase And Contract (jointly approved by the NC Bar Association & NC Association of Realtors®) then a seller is only agreeing to produce a clear title to the property. This means that they are agreeing to correct any items that will affect the title, such as property liens, encroachments, etc.
---
To make a long story short, almost everything is negotiable. Pricing, Due Diligence Fees, Earnest Money Deposits, Due Diligence Dates, Closing Dates, Repairs, and so forth are all negotiable.
Partnering with a Realtor® that you can trust is highly encouraged. A Realtor® can help you navigate the entire real estate transaction, while helping to protect YOU along the way.
If you have any questions about NC real estate or this article, please contact the author Mike Griffith.
This content is not intended as legal advice. Every transaction is unique and you should always seek the advice of an attorney and/or Realtor®.